Ashiatsu Oriental Bar Therapy
added to my practice in 2007
Of all the techniques I've given my clients to experience over the years... this is the one addition to their sessions that I am consistently asked to include... this, and the Hot Rocks.
Overwhelmingly, a person's first time, they do not realize when I have switched to my feet, even thinking that I never did. Until I manage to create my own... the video below will give you an excellent example of the technique and its benefits.

Please keep in mind, this can be done light to deep pressure, varied speed, and is just an option as or during your session. When left up to me, I don't always use it.

Ashiatsu Video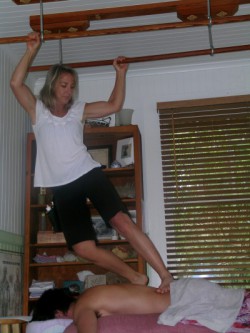 As a written explanation, this modality is done by my standing on the massage table and using one or both feet in (mostly) long gliding strokes. I balance, control my movement, and apply the appropriate amount of pressure with my weight, by holding on to long bars that are attached to the ceiling above me, running the length of the table. I can angle in and out of the body like windsurfing, while applying a continuous glide from head to toe with light to deep pressure, or staying localized with smaller movements. This is done with oil or lotion to allow for the flowing movement. Say good-bye to the 'ole elbow stabbing into your glutes... this is particularly effective and enjoyable for those large muscle groups and excellent for circulation.